We're Here Contest by Michael Marshall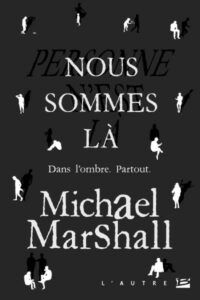 The end of August is marked by the release of the new fantasy novel by Michael Marshall : We are here ! Ambiance guaranteed with this novel. Do you dare to read it at night, under the covers ?
Date of publication : 19/08/2015
Date of publication eBook : 28/08/2015
Publisher : Bragelonne
Collection : Fantastic
Summary
We are here. In the shade. We are watching. We are waiting for…
When David bumps into a complete stranger in New York City, he hears four words that will change his life forever: Remember me. Since then, strange and inexplicable things have been happening around him, and David can't shake the feeling that someone is watching him.
We have spent our lives by your side;
In New York City as elsewhere, other people feel followed, spied on by silhouettes with increasingly clear contours. There are beings hidden in the shadows, watching us, on the lookout. Who are they, what do they want… and why do they sometimes look so familiar to us ?
We know who you are. We know where you live.
You can't see us, but be sure: we are here.
How to play ?
It's easy, just answer the question below, which shouldn't give you too many problems, and fill in the questionnaire. The 5 winners will be drawn at random from the participants.
The batches 5 copies of the novel We are here by Michael Marshall.
You can multiply your chances of winning by tweeting and sharing on Facebook (find the sharing links at the end of the article).
Contest valid in Metropolitan France from August 24 to September 06, 2015 at a rate of one participation per household.