What gifts to give to travelers ?
It is sometimes difficult to find a gift for your loved ones for each major event or special occasion that occurs each year. Sometimes you think you're lucky enough not to miss anything, but small things, possibly at low cost, can make you happy and become real practical gifts !
Between the birthdays, the occasions to celebrate like the obtaining of a diploma or a housewarming and so many other things, it It is often necessary to think all year long when you want to please a loved one. Let's not forget Christmas, a great annual occasion for which it is easy to find many lists of ideas for certain enthusiasts, such as poker players. However, it remains more difficult to find lists established for all occasions, for those who have taken the habit of traveling and surveying the continents.
On a road trip, close to home or on the other side of the world, some gifts can be highly practical for travelers of all kinds. So, what gift could you give or even grant yourself as a globetrotter ? Non-exhaustive list below.
A portable automatic coffee maker
As much as some people like to travel as soon as they can, it is difficult to do without the famous coffee when you are used to it and appreciate it on certain occasions. Don't panic because several companies have, for several years, marketed refillable coffee makers on cigarette lighter and intended to make coffees, often compatible with Nespresso capsules, wherever you are.
A very pleasant accessory when hiking or when you are on a road trip without a single restaurant on the horizon.
A drone
A few years after the onboard sports camera craze, drones are now dominating the market among video content enthusiasts. They are available nowadays, at all prices and for this reason, the drone can be the perfect gift if someone wants to get his foot in the door and discover this new way to capture memories and landscapes so picturesque from another view.
Pixabay, CC0 The images obtained from drones are often striking
Sure, it takes a few hours of practice to start mastering the art of filming and moving the drone safely, but no doubt that the person receiving such a gift will take this time, with great pleasure.
A knife
If you appreciate cutlery and things well made in the tradition, sometimes French thanks to many prestigious companies offering these products, a knife can be highly practical and appreciated by a traveler. Depending on one's habits and the places frequently visited, one can opt for a set, an adventurer's knife or the equivalent of a Swiss Army knife with several tools on it.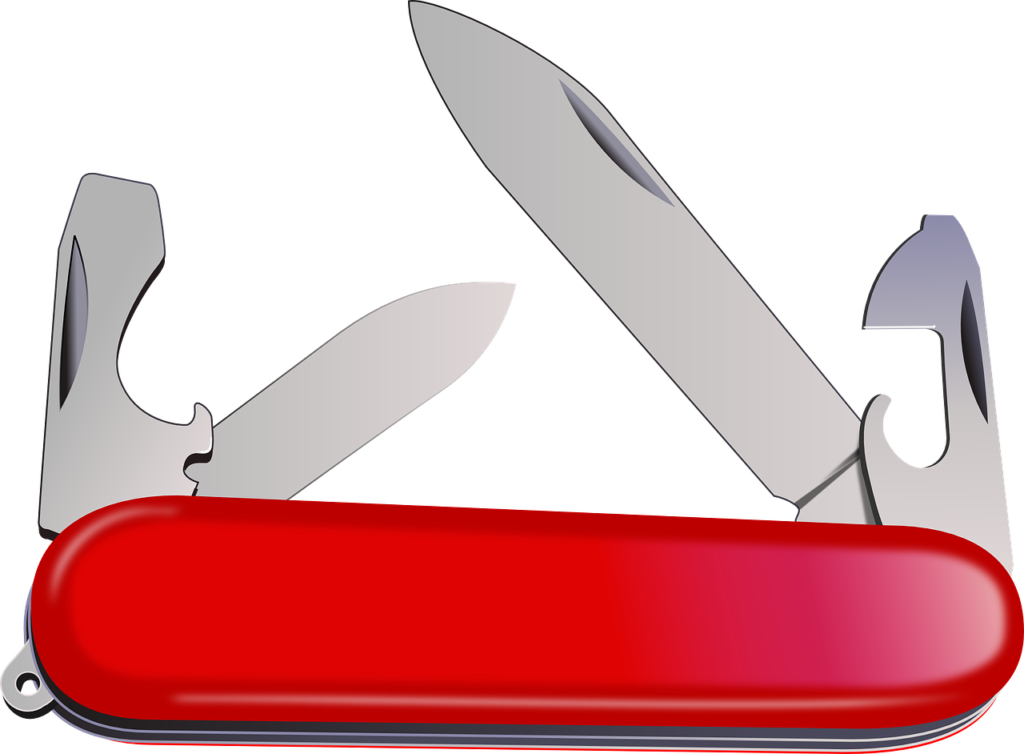 Pixabay, CC0 The Swiss Army knife offers several advantages
However, when you offer a knife, there are two things to respect. Asking for a coin in return if you face superstition and tradition and of course, remembering to take it out of your bag when you fly, for obvious reasons.
A washing bag
Here is the new trend observed for several months and initially patented by a French company. Llong hikes and road trip lovers know better than anyone how complex washing clothes can be depending on the weather and above all, the place where they are.
This bag can generally be vacuum-packed and slipped into the heart of a large bag or any part of the car's interior. It allows, according to a simple principle, to wash its various clothes in a few minutes only and thus, to help the travelers to keep clean things at hand during the days.
This can be extremely practical with clothes that dry quickly thanks to specific materials or socks if you want to enjoy a regular change when you walk.