Haute-Savoie: the good gestures to adopt when the snow returns
Monday morning, the snow decided to make its comeback at low altitude. Barely 9 o'clock and the roads start to be white around Annecy. So before the streets of the Annecy area put on their white coat, we suggest you to take stock of what to do if you have to take the road.
Driving with snow, the gestures to adopt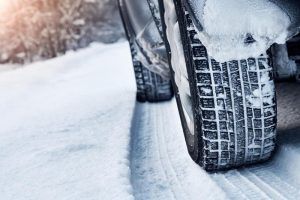 If the city of Annecy seems to be spared from the snowfall for the moment, it is not the same in the Genevois. Since 8 o'clock this Monday morning, it has been snowing heavily. As proof, only one lane is open on the Bellegarde-Annemasse axis and the speed of motorists does not exceed 70 km/h.
So with the return of snow in the resort and at low altitude, some habits must be put in place when we take our car. Here are the main ones:
De-ice the windows and clear the snow from the roof before taking the road
Adjust the headlights and put a windshield washer that will not freeze in case of cold
Do not overtake snow and ice clearing machines when their blue flashing light is on
Adapting your lighting to be seen and to see
Use the engine brake and drive smoothly
Bring warm clothes and a survival blanket
Increase safety distances and reduce speed
In addition, you should know that if you drive a car that is not cleared of snow, you risk a fine, the amount of which may change. Please note that if you have multiple violations, the fines can add up.
| Infraction | Fine |
| --- | --- |
| Unobstructed view on the sides and front of the vehicle | 90€ |
| Invisible license plate | 90€ |
| Mirrors not cleared | 90€ |
| Snow falling from the roof when the vehicle is moving | 68€ |
| Lights that are not clear | 68€ |
The obligation of winter equipment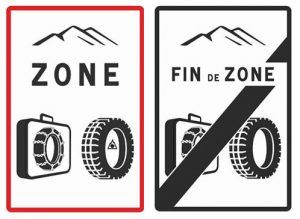 Since November 1st, your vehicle must be equipped with winter tires, chains or socks. This obligation came into force on November 1, 2021. It is effective until March 31 of each year.
As a reminder, all four-wheeled vehicles are concerned, whether they are cars, campers, buses or heavy goods vehicles. Until November 1, 2024, snow tires marked "M+S" are tolerated. After this date, only tires "3PMSF" will be allowed.
What about rental cars? ?
In theory, rental cars must also be equipped with winter tires. It is even an obligation since these vehicles are four-wheelers. However, many car rental companies ignore this rule.
In practice, it is not uncommon to find rental vehicles without snow tires. In general, chains or socks are provided on request and at an extra cost.
The problem remains that in case of control, it is the motorist who is held responsible and not the company that rented him the car. If you have to go to a ski resort this winter, make sure that the company where you will rent your vehicle is in order.
The device of the department of Haute-Savoie
On the side of the Department of Haute-Savoie, a device to ensure the good condition of the 3,000 kilometers of roads in case of snow is in place since November 15. Nearly 450 agents are mobilized every day of the week, between 3 am and 10 pm. If you should come across snow removal machines, remember that they are there for your safety.
Weather update for the next few days
In the coming days, snowflakes could fall on Annecy. In the Annecy area, remember to take your precautions on Tuesday, Wednesday and Thursday morning. A few centimeters of snow are announced on various weather reports.
The department of Haute-Savoie has also been placed in orange vigilance snow and ice for the day of Tuesday.
More than 50 centimetres of snow expected in resorts. Between today and tomorrow Tuesday, 15 to 25 cm are expected in Haute-Savoie, as well as in the Bauges and Beaufortain. From Wednesday, the cold will settle on the massifs and will be accentuated by a north wind.